Features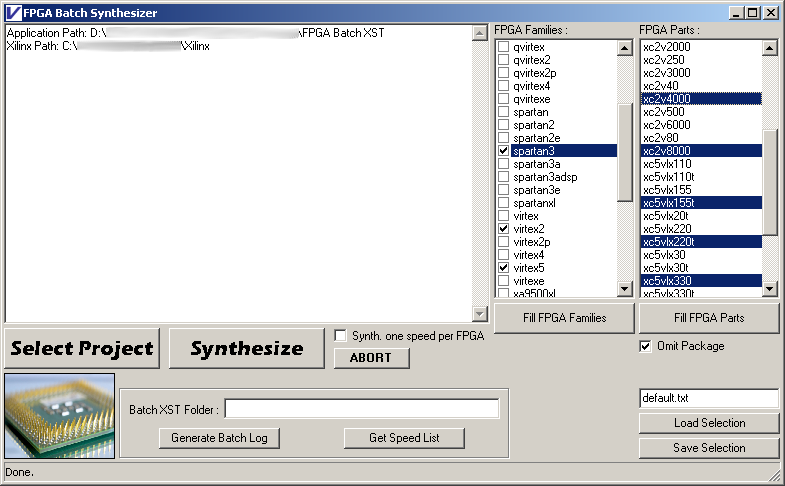 The FPGA Batch Synthesizer is a Windows application designed to automate the task of performing multiple synthesis runs for a single project in order to obtain the synthesis results for any FPGA part.
The tool currently supports only Xilinx and Altera FPGAs. The Xilinx ISE/Altera Quartus application must be installed in the system. The free Xilinx ISE/Altera Quartus Web Edition can be used and numerical synthesis results (speed & resource usage) for FPGAs beyond the maximum permitted by the free version will also be obtained.
Once started, the application will analyze your installed Xilinx ISE/Altera Quartus in order to list the FPGA families and part names that can be automatically synthesized.
Support

If you are interested in purchasing this tool for a different FPGA vendor (Actel, Lattice, etc.), contact us and we will implement it at no extra cost. For any further information on this tool or if you would like to receive a price quotation, please use the Contact form or the Quote Request button.
Screenshots
Example Output
The following table has been copied and pasted from the direct output (actual HTML table code) of a Batch Synthesis on all Xilinx and Altera FPGAs for a medium-sized a project. The program automatically scans synthesis results to avoid showing FPGAs in which the core does not fit.
| Vendor | Family | Device | Logic Usage | BRAMs | MULTs/DSPs | Max. Freq. |
| --- | --- | --- | --- | --- | --- | --- |
| Vendor | Family | Device | Logic Usage | BRAMs | MULTs/DSPs | Max. Freq. |
| Xilinx | QPro Virtex Mil. | XQV1000-4 | 19.2 % | 0 | 0 | 24.416 MHz |
| Xilinx | QPro Virtex Mil. | XQV300-4 | 77.0 % | 0 | 0 | 24.416 MHz |
| Xilinx | QPro Virtex Mil. | XQV600-4 | 34.2 % | 0 | 0 | 24.416 MHz |
| Xilinx | QPro Virtex Rad. | XQVR1000-4 | 19.2 % | 0 | 0 | 24.416 MHz |
| Xilinx | QPro Virtex Rad. | XQVR300-4 | 77.0 % | 0 | 0 | 24.416 MHz |
| Xilinx | QPro Virtex Rad. | XQVR600-4 | 34.2 % | 0 | 0 | 24.416 MHz |
| Xilinx | QPro Virtex-4 LX Mil. | XQ4VLX25-10 | 2.8 % | 4 | 0 | 159.127 MHz |
| Xilinx | QPro Virtex-4 LX Mil. | XQ4VLX60-10 | 1.1 % | 4 | 0 | 159.127 MHz |
| Xilinx | QPro Virtex-4 SX Mil. | XQ4VSX55-10 | 1.2 % | 4 | 0 | 159.127 MHz |
| Xilinx | QPro Virtex-E Mil. | XQV1000E-6 | 19.3 % | 0 | 0 | 33.755 MHz |
| Xilinx | QPro Virtex-E Mil. | XQV2000E-6 | 12.4 % | 0 | 0 | 33.755 MHz |
| Xilinx | QPro Virtex-E Mil. | XQV600E-6 | 34.3 % | 0 | 0 | 33.755 MHz |
| Xilinx | QPro Virtex-II Mil. | XQ2V1000-4 | 5.7 % | 4 | 0 | 105.516 MHz |
| Xilinx | QPro Virtex-II Mil. | XQ2V3000-4 | 2.0 % | 4 | 0 | 105.516 MHz |
| Xilinx | QPro Virtex-II Mil. | XQ2V6000-4 | 0.9 % | 4 | 0 | 105.516 MHz |
| Xilinx | QPro Virtex-II Pro Mil. | XQ2VP40-5 | 1.5 % | 4 | 0 | 131.928 MHz |
| Xilinx | QPro Virtex-II Pro Mil. | XQ2VP70-5 | 0.9 % | 4 | 0 | 131.928 MHz |
| Xilinx | QPro Virtex-II Rad. | XQR2V1000-4 | 5.7 % | 4 | 0 | 105.516 MHz |
| Xilinx | QPro Virtex-II Rad. | XQR2V3000-4 | 2.0 % | 4 | 0 | 105.516 MHz |
| Xilinx | QPro Virtex-II Rad. | XQR2V6000-4 | 0.9 % | 4 | 0 | 105.516 MHz |
| Xilinx | Spartan-3 Auto. | XA3S1000-4 | 4.1 % | 4 | 0 | 91.299 MHz |
| Xilinx | Spartan-3 Auto. | XA3S1500-4 | 2.4 % | 4 | 0 | 91.299 MHz |
| Xilinx | Spartan-3 Auto. | XA3S200-4 | 16.5 % | 4 | 0 | 91.299 MHz |
| Xilinx | Spartan-3 Auto. | XA3S400-4 | 8.8 % | 4 | 0 | 91.299 MHz |
| Xilinx | Spartan-3 Auto. | XA3S50-4 | 41.3 % | 4 | 0 | 91.299 MHz |
| Xilinx | Spartan-3 | XC3S1000-4 | 4.1 % | 4 | 0 | 91.299 MHz |
| Xilinx | Spartan-3 | XC3S1000-5 | 4.1 % | 4 | 0 | 106.552 MHz |
| Xilinx | Spartan-3 | XC3S1500-4 | 2.4 % | 4 | 0 | 91.299 MHz |
| Xilinx | Spartan-3 | XC3S1500-5 | 2.4 % | 4 | 0 | 106.552 MHz |
| Xilinx | Spartan-3 | XC3S2000-4 | 1.6 % | 4 | 0 | 91.299 MHz |
| Xilinx | Spartan-3 | XC3S2000-5 | 1.5 % | 4 | 0 | 106.552 MHz |
| Xilinx | Spartan-3 | XC3S200-4 | 16.6 % | 4 | 0 | 91.299 MHz |
| Xilinx | Spartan-3 | XC3S200-5 | 16.5 % | 4 | 0 | 106.552 MHz |
| Xilinx | Spartan-3 | XC3S4000-4 | 1.2 % | 4 | 0 | 91.299 MHz |
| Xilinx | Spartan-3 | XC3S4000-5 | 1.1 % | 4 | 0 | 106.552 MHz |
| Xilinx | Spartan-3 | XC3S400-4 | 8.9 % | 4 | 0 | 91.299 MHz |
| Xilinx | Spartan-3 | XC3S400-5 | 8.8 % | 4 | 0 | 106.552 MHz |
| Xilinx | Spartan-3 | XC3S5000-4 | 1.0 % | 4 | 0 | 91.299 MHz |
| Xilinx | Spartan-3 | XC3S5000-5 | 0.9 % | 4 | 0 | 106.552 MHz |
| Xilinx | Spartan-3 | XC3S50-4 | 41.4 % | 4 | 0 | 91.299 MHz |
| Xilinx | Spartan-3 | XC3S50-5 | 41.1 % | 4 | 0 | 106.552 MHz |
| Xilinx | Spartan-3A DSP | XC3SD1800A-4 | 1.8 % | 4 | 0 | 98.270 MHz |
| Xilinx | Spartan-3A DSP | XC3SD1800A-5 | 1.8 % | 4 | 0 | 115.577 MHz |
| Xilinx | Spartan-3A DSP | XC3SD3400A-4 | 1.2 % | 4 | 0 | 98.270 MHz |
| Xilinx | Spartan-3A DSP | XC3SD3400A-5 | 1.2 % | 4 | 0 | 115.577 MHz |
| Xilinx | Spartan-3A | XC3S1400A-4 | 2.7 % | 4 | 0 | 101.369 MHz |
| Xilinx | Spartan-3A | XC3S1400A-5 | 2.6 % | 4 | 0 | 120.016 MHz |
| Xilinx | Spartan-3A | XC3S200A-4 | 17.0 % | 4 | 0 | 101.369 MHz |
| Xilinx | Spartan-3A | XC3S200A-5 | 16.1 % | 4 | 0 | 120.016 MHz |
| Xilinx | Spartan-3A | XC3S400A-4 | 8.5 % | 4 | 0 | 101.369 MHz |
| Xilinx | Spartan-3A | XC3S400A-5 | 8.1 % | 4 | 0 | 120.016 MHz |
| Xilinx | Spartan-3A | XC3S700A-4 | 5.2 % | 4 | 0 | 101.369 MHz |
| Xilinx | Spartan-3A | XC3S700A-5 | 4.9 % | 4 | 0 | 120.016 MHz |
| Xilinx | Spartan-3AN | XC3S1400AN-4 | 2.6 % | 4 | 0 | 101.369 MHz |
| Xilinx | Spartan-3AN | XC3S1400AN-5 | 2.6 % | 4 | 0 | 120.016 MHz |
| Xilinx | Spartan-3AN | XC3S200AN-4 | 16.6 % | 4 | 0 | 101.369 MHz |
| Xilinx | Spartan-3AN | XC3S200AN-5 | 16.5 % | 4 | 0 | 120.016 MHz |
| Xilinx | Spartan-3AN | XC3S400AN-4 | 8.3 % | 4 | 0 | 101.369 MHz |
| Xilinx | Spartan-3AN | XC3S400AN-5 | 8.2 % | 4 | 0 | 120.016 MHz |
| Xilinx | Spartan-3AN | XC3S700AN-4 | 5.1 % | 4 | 0 | 101.369 MHz |
| Xilinx | Spartan-3AN | XC3S700AN-5 | 5.0 % | 4 | 0 | 120.016 MHz |
| Xilinx | Spartan-3E Auto. | XA3S100E-4 | 33.0 % | 4 | 0 | 106.360 MHz |
| Xilinx | Spartan-3E Auto. | XA3S1200E-4 | 3.7 % | 4 | 0 | 106.360 MHz |
| Xilinx | Spartan-3E Auto. | XA3S1600E-4 | 2.1 % | 4 | 0 | 106.360 MHz |
| Xilinx | Spartan-3E Auto. | XA3S250E-4 | 12.9 % | 4 | 0 | 106.360 MHz |
| Xilinx | Spartan-3E Auto. | XA3S500E-4 | 6.8 % | 4 | 0 | 106.360 MHz |
| Xilinx | Spartan-3E | XC3S100E-4 | 32.2 % | 4 | 0 | 106.360 MHz |
| Xilinx | Spartan-3E | XC3S100E-5 | 32.3 % | 4 | 0 | 122.238 MHz |
| Xilinx | Spartan-3E | XC3S1200E-4 | 3.6 % | 4 | 0 | 106.360 MHz |
| Xilinx | Spartan-3E | XC3S1200E-5 | 3.6 % | 4 | 0 | 122.238 MHz |
| Xilinx | Spartan-3E | XC3S1600E-4 | 2.1 % | 4 | 0 | 106.360 MHz |
| Xilinx | Spartan-3E | XC3S1600E-5 | 2.1 % | 4 | 0 | 122.238 MHz |
| Xilinx | Spartan-3E | XC3S250E-4 | 12.6 % | 4 | 0 | 106.360 MHz |
| Xilinx | Spartan-3E | XC3S250E-5 | 12.7 % | 4 | 0 | 122.238 MHz |
| Xilinx | Spartan-3E | XC3S500E-4 | 6.6 % | 4 | 0 | 106.360 MHz |
| Xilinx | Spartan-3E | XC3S500E-5 | 6.7 % | 4 | 0 | 122.238 MHz |
| Xilinx | Spartan-3L | XC3S1000L-4 | 4.1 % | 4 | 0 | 91.299 MHz |
| Xilinx | Spartan-3L | XC3S1500L-4 | 2.4 % | 4 | 0 | 91.299 MHz |
| Xilinx | Spartan-3L | XC3S4000L-4 | 1.2 % | 4 | 0 | 91.299 MHz |
| Xilinx | Spartan-IIE Auto. | XA2S300E-6 | 76.8 % | 0 | 0 | 33.755 MHz |
| Xilinx | Spartan-IIE | XC2S300E-6 | 77.0 % | 0 | 0 | 33.755 MHz |
| Xilinx | Spartan-IIE | XC2S300E-7 | 77.0 % | 0 | 0 | 40.890 MHz |
| Xilinx | Spartan-IIE | XC2S400E-6 | 49.3 % | 0 | 0 | 33.755 MHz |
| Xilinx | Spartan-IIE | XC2S400E-7 | 49.3 % | 0 | 0 | 40.890 MHz |
| Xilinx | Spartan-IIE | XC2S600E-6 | 34.2 % | 0 | 0 | 33.755 MHz |
| Xilinx | Spartan-IIE | XC2S600E-7 | 34.2 % | 0 | 0 | 40.890 MHz |
| Xilinx | Virtex | XCV1000-4 | 19.2 % | 0 | 0 | 24.416 MHz |
| Xilinx | Virtex | XCV1000-5 | 19.3 % | 0 | 0 | 27.004 MHz |
| Xilinx | Virtex | XCV1000-6 | 19.3 % | 0 | 0 | 30.034 MHz |
| Xilinx | Virtex | XCV300-4 | 77.0 % | 0 | 0 | 24.416 MHz |
| Xilinx | Virtex | XCV300-5 | 77.1 % | 0 | 0 | 27.004 MHz |
| Xilinx | Virtex | XCV300-6 | 77.0 % | 0 | 0 | 30.034 MHz |
| Xilinx | Virtex | XCV400-4 | 49.2 % | 0 | 0 | 24.416 MHz |
| Xilinx | Virtex | XCV400-5 | 49.3 % | 0 | 0 | 27.004 MHz |
| Xilinx | Virtex | XCV400-6 | 49.3 % | 0 | 0 | 30.034 MHz |
| Xilinx | Virtex | XCV600-4 | 34.2 % | 0 | 0 | 24.416 MHz |
| Xilinx | Virtex | XCV600-5 | 34.3 % | 0 | 0 | 27.004 MHz |
| Xilinx | Virtex | XCV600-6 | 34.2 % | 0 | 0 | 30.034 MHz |
| Xilinx | Virtex | XCV800-4 | 25.1 % | 0 | 0 | 24.416 MHz |
| Xilinx | Virtex | XCV800-5 | 25.2 % | 0 | 0 | 27.004 MHz |
| Xilinx | Virtex | XCV800-6 | 25.1 % | 0 | 0 | 30.034 MHz |
| Xilinx | Virtex-4 FX | XC4VFX100-10 | 0.8 % | 4 | 0 | 159.127 MHz |
| Xilinx | Virtex-4 FX | XC4VFX100-11 | 0.8 % | 4 | 0 | 184.638 MHz |
| Xilinx | Virtex-4 FX | XC4VFX100-12 | 0.8 % | 4 | 0 | 208.520 MHz |
| Xilinx | Virtex-4 FX | XC4VFX12-10 | 6.0 % | 4 | 0 | 159.127 MHz |
| Xilinx | Virtex-4 FX | XC4VFX12-11 | 6.0 % | 4 | 0 | 184.638 MHz |
| Xilinx | Virtex-4 FX | XC4VFX12-12 | 6.0 % | 4 | 0 | 208.520 MHz |
| Xilinx | Virtex-4 FX | XC4VFX140-10 | 0.5 % | 4 | 0 | 159.127 MHz |
| Xilinx | Virtex-4 FX | XC4VFX140-11 | 0.5 % | 4 | 0 | 184.638 MHz |
| Xilinx | Virtex-4 FX | XC4VFX140-12 | 0.5 % | 4 | 0 | 208.520 MHz |
| Xilinx | Virtex-4 FX | XC4VFX20-10 | 3.9 % | 4 | 0 | 159.127 MHz |
| Xilinx | Virtex-4 FX | XC4VFX20-11 | 3.9 % | 4 | 0 | 184.638 MHz |
| Xilinx | Virtex-4 FX | XC4VFX20-12 | 3.8 % | 4 | 0 | 208.520 MHz |
| Xilinx | Virtex-4 FX | XC4VFX40-10 | 1.8 % | 4 | 0 | 159.127 MHz |
| Xilinx | Virtex-4 FX | XC4VFX40-11 | 1.8 % | 4 | 0 | 184.638 MHz |
| Xilinx | Virtex-4 FX | XC4VFX40-12 | 1.8 % | 4 | 0 | 208.520 MHz |
| Xilinx | Virtex-4 FX | XC4VFX60-10 | 1.3 % | 4 | 0 | 159.127 MHz |
| Xilinx | Virtex-4 FX | XC4VFX60-11 | 1.3 % | 4 | 0 | 184.638 MHz |
| Xilinx | Virtex-4 FX | XC4VFX60-12 | 1.3 % | 4 | 0 | 208.520 MHz |
| Xilinx | Virtex-4 LX | XC4VLX100-10 | 0.7 %td> | 4 | 0 | 159.127 MHz |
| Xilinx | Virtex-4 LX | XC4VLX100-11 | 0.7 % | 4 | 0 | 184.638 MHz |
| Xilinx | Virtex-4 LX | XC4VLX100-12 | 0.7 % | 4 | 0 | 208.520 MHz |
| Xilinx | Virtex-4 LX | XC4VLX15-10 | 5.4 % | 4 | 0 | 159.127 MHz |
| Xilinx | Virtex-4 LX | XC4VLX15-11 | 5.4 % | 4 | 0 | 184.638 MHz |
| Xilinx | Virtex-4 LX | XC4VLX15-12 | 5.3 % | 4 | 0 | 208.520 MHz |
| Xilinx | Virtex-4 LX | XC4VLX160-10 | 0.5 % | 4 | 0 | 159.127 MHz |
| Xilinx | Virtex-4 LX | XC4VLX160-11 | 0.5 % | 4 | 0 | 184.638 MHz |
| Xilinx | Virtex-4 LX | XC4VLX160-12 | 0.5 % | 4 | 0 | 208.520 MHz |
| Xilinx | Virtex-4 LX | XC4VLX200-10 | 0.4 % | 4 | 0 | 159.127 MHz |
| Xilinx | Virtex-4 LX | XC4VLX200-11 | 0.4 % | 4 | 0 | 184.638 MHz |
| Xilinx | Virtex-4 LX | XC4VLX200-12 | 0.4 % | 4 | 0 | 208.520 MHz |
| Xilinx | Virtex-4 LX | XC4VLX25-10 | 3.1 % | 4 | 0 | 159.127 MHz |
| Xilinx | Virtex-4 LX | XC4VLX25-11 | 3.1 % | 4 | 0 | 184.638 MHz |
| Xilinx | Virtex-4 LX | XC4VLX25-12 | 3.1 % | 4 | 0 | 208.520 MHz |
| Xilinx | Virtex-4 LX | XC4VLX40-10 | 1.8 % | 4 | 0 | 159.127 MHz |
| Xilinx | Virtex-4 LX | XC4VLX40-11 | 1.8 % | 4 | 0 | 184.638 MHz |
| Xilinx | Virtex-4 LX | XC4VLX40-12 | 1.8 % | 4 | 0 | 208.520 MHz |
| Xilinx | Virtex-4 LX | XC4VLX60-10 | 1.2 % | 4 | 0 | 159.127 MHz |
| Xilinx | Virtex-4 LX | XC4VLX60-11 | 1.2 % | 4 | 0 | 184.638 MHz |
| Xilinx | Virtex-4 LX | XC4VLX60-12 | 1.2 % | 4 | 0 | 208.520 MHz |
| Xilinx | Virtex-4 LX | XC4VLX80-10 | 0.9 % | 4 | 0 | 159.127 MHz |
| Xilinx | Virtex-4 LX | XC4VLX80-11 | 0.9 % | 4 | 0 | 184.638 MHz |
| Xilinx | Virtex-4 LX | XC4VLX80-12 | 0.9 % | 4 | 0 | 208.520 MHz |
| Xilinx | Virtex-4 SX | XC4VSX25-10 | 3.2 % | 4 | 0 | 159.127 MHz |
| Xilinx | Virtex-4 SX | XC4VSX25-11 | 3.2 % | 4 | 0 | 184.638 MHz |
| Xilinx | Virtex-4 SX | XC4VSX25-12 | 3.2 % | 4 | 0 | 208.520 MHz |
| Xilinx | Virtex-4 SX | XC4VSX35-10 | 2.1 % | 4 | 0 | 159.127 MHz |
| Xilinx | Virtex-4 SX | XC4VSX35-11 | 2.1 % | 4 | 0 | 184.638 MHz |
| Xilinx | Virtex-4 SX | XC4VSX35-12 | 2.1 % | 4 | 0 | 208.520 MHz |
| Xilinx | Virtex-4 SX | XC4VSX55-10 | 1.3 % | 4 | 0 | 159.127 MHz |
| Xilinx | Virtex-4 SX | XC4VSX55-11 | 1.3 % | 4 | 0 | 184.638 MHz |
| Xilinx | Virtex-4 SX | XC4VSX55-12 | 1.3 % | 4 | 0 | 208.520 MHz |
| Xilinx | Virtex-5 FXT | XC5VFX100T-1 | 0.8 % | 2 | 0 | 181.521 MHz |
| Xilinx | Virtex-5 FXT | XC5VFX100T-2 | 0.8 % | 2 | 0 | 211.048 MHz |
| Xilinx | Virtex-5 FXT | XC5VFX100T-3 | 0.8 % | 2 | 0 | 238.124 MHz |
| Xilinx | Virtex-5 FXT | XC5VFX130T-1 | 0.6 % | 2 | 0 | 181.521 MHz |
| Xilinx | Virtex-5 FXT | XC5VFX130T-2 | 0.6 % | 2 | 0 | 211.048 MHz |
| Xilinx | Virtex-5 FXT | XC5VFX130T-3 | 0.6 % | 2 | 0 | 238.124 MHz |
| Xilinx | Virtex-5 FXT | XC5VFX200T-1 | 0.4 % | 2 | 0 | 181.521 MHz |
| Xilinx | Virtex-5 FXT | XC5VFX200T-2 | 0.4 % | 2 | 0 | 211.048 MHz |
| Xilinx | Virtex-5 FXT | XC5VFX200T-3 | 0.4 % | 2 | 0 | 238.124 MHz |
| Xilinx | Virtex-5 FXT | XC5VFX30T-1 | 2.4 % | 2 | 0 | 181.521 MHz |
| Xilinx | Virtex-5 FXT | XC5VFX30T-2 | 2.4 % | 2 | 0 | 211.048 MHz |
| Xilinx | Virtex-5 FXT | XC5VFX30T-3 | 2.4 % | 2 | 0 | 238.124 MHz |
| Xilinx | Virtex-5 FXT | XC5VFX70T-1 | 1.1 % | 2 | 0 | 181.521 MHz |
| Xilinx | Virtex-5 FXT | XC5VFX70T-2 | 1.1 % | 2 | 0 | 211.048 MHz |
| Xilinx | Virtex-5 FXT | XC5VFX70T-3 | 1.1 % | 2 | 0 | 238.124 MHz |
| Xilinx | Virtex-5 LX | XC5VLX110-1 | 0.7 % | 2 | 0 | 181.521 MHz |
| Xilinx | Virtex-5 LX | XC5VLX110-2 | 0.7 % | 2 | 0 | 211.048 MHz |
| Xilinx | Virtex-5 LX | XC5VLX110-3 | 0.7 % | 2 | 0 | 238.124 MHz |
| Xilinx | Virtex-5 LX | XC5VLX155-1 | 0.5 % | 2 | 0 | 181.521 MHz |
| Xilinx | Virtex-5 LX | XC5VLX155-2 | 0.5 % | 2 | 0 | 211.048 MHz |
| Xilinx | Virtex-5 LX | XC5VLX155-3 | 0.5 % | 2 | 0 | 238.124 MHz |
| Xilinx | Virtex-5 LX | XC5VLX220-1 | 0.4 % | 2 | 0 | 181.521 MHz |
| Xilinx | Virtex-5 LX | XC5VLX220-2 | 0.4 % | 2 | 0 | 211.048 MHz |
| Xilinx | Virtex-5 LX | XC5VLX220-3 | 0.4 % | 2 | 0 | 238.124 MHz |
| Xilinx | Virtex-5 LX | XC5VLX30-1 | 2.6 % | 2 | 0 | 181.521 MHz |
| Xilinx | Virtex-5 LX | XC5VLX30-2 | 2.6 % | 2 | 0 | 211.048 MHz |
| Xilinx | Virtex-5 LX | XC5VLX30-3 | 2.6 % | 2 | 0 | 238.124 MHz |
| Xilinx | Virtex-5 LX | XC5VLX330-1 | 0.2 % | 2 | 0 | 181.521 MHz |
| Xilinx | Virtex-5 LX | XC5VLX330-2 | 0.2 % | 2 | 0 | 211.048 MHz |
| Xilinx | Virtex-5 LX | XC5VLX330-3 | 0.2 % | 2 | 0 | 238.124 MHz |
| Xilinx | Virtex-5 LX | XC5VLX50-1 | 1.7 % | 2 | 0 | 181.521 MHz |
| Xilinx | Virtex-5 LX | XC5VLX50-2 | 1.7 % | 2 | 0 | 211.048 MHz |
| Xilinx | Virtex-5 LX | XC5VLX50-3 | 1.7 % | 2 | 0 | 238.124 MHz |
| Xilinx | Virtex-5 LX | XC5VLX85-1 | 0.9 % | 2 | 0 | 181.521 MHz |
| Xilinx | Virtex-5 LX | XC5VLX85-2 | 0.9 % | 2 | 0 | 211.048 MHz |
| Xilinx | Virtex-5 LX | XC5VLX85-3 | 0.9 % | 2 | 0 | 238.124 MHz |
| Xilinx | Virtex-5 LXT | XC5VLX110T-1 | 0.7 % | 2 | 0 | 181.521 MHz |
| Xilinx | Virtex-5 LXT | XC5VLX110T-2 | 0.7 % | 2 | 0 | 211.048 MHz |
| Xilinx | Virtex-5 LXT | XC5VLX110T-3 | 0.7 % | 2 | 0 | 238.124 MHz |
| Xilinx | Virtex-5 LXT | XC5VLX155T-1 | 0.5 % | 2 | 0 | 181.521 MHz |
| Xilinx | Virtex-5 LXT | XC5VLX155T-2 | 0.5 % | 2 | 0 | 211.048 MHz |
| Xilinx | Virtex-5 LXT | XC5VLX155T-3 | 0.5 % | 2 | 0 | 238.124 MHz |
| Xilinx | Virtex-5 LXT | XC5VLX20T-1 | 3.9 % | 2 | 0 | 181.521 MHz |
| Xilinx | Virtex-5 LXT | XC5VLX20T-2 | 3.9 % | 2 | 0 | 211.048 MHz |
| Xilinx | Virtex-5 LXT | XC5VLX20T-3 | 3.9 % | 2 | 0 | 238.124 MHz |
| Xilinx | Virtex-5 LXT | XC5VLX220T-1 | 0.4 % | 2 | 0 | 181.521 MHz |
| Xilinx | Virtex-5 LXT | XC5VLX220T-2 | 0.4 % | 2 | 0 | 211.048 MHz |
| Xilinx | Virtex-5 LXT | XC5VLX220T-3 | 0.4 % | 2 | 0 | 238.124 MHz |
| Xilinx | Virtex-5 LXT | XC5VLX30T-1 | 2.6 % | 2 | 0 | 181.521 MHz |
| Xilinx | Virtex-5 LXT | XC5VLX30T-2 | 2.6 % | 2 | 0 | 211.048 MHz |
| Xilinx | Virtex-5 LXT | XC5VLX30T-3 | 2.6 % | 2 | 0 | 238.124 MHz |
| Xilinx | Virtex-5 LXT | XC5VLX330T-1 | 0.2 % | 2 | 0 | 181.521 MHz |
| Xilinx | Virtex-5 LXT | XC5VLX330T-2 | 0.2 % | 2 | 0 | 211.048 MHz |
| Xilinx | Virtex-5 LXT | XC5VLX330T-3 | 0.2 % | 2 | 0 | 238.124 MHz |
| Xilinx | Virtex-5 LXT | XC5VLX50T-1 | 1.7 % | 2 | 0 | 181.521 MHz |
| Xilinx | Virtex-5 LXT | XC5VLX50T-2 | 1.7 % | 2 | 0 | 211.048 MHz |
| Xilinx | Virtex-5 LXT | XC5VLX50T-3 | 1.7 % | 2 | 0 | 238.124 MHz |
| Xilinx | Virtex-5 LXT | XC5VLX85T-1 | 0.9 % | 2 | 0 | 181.521 MHz |
| Xilinx | Virtex-5 LXT | XC5VLX85T-2 | 0.9 % | 2 | 0 | 211.048 MHz |
| Xilinx | Virtex-5 LXT | XC5VLX85T-3 | 0.9 % | 2 | 0 | 238.124 MHz |
| Xilinx | Virtex-5 SXT | XC5VSX240T-1 | 0.3 % | 2 | 0 | 181.521 MHz |
| Xilinx | Virtex-5 SXT | XC5VSX240T-2 | 0.3 % | 2 | 0 | 211.048 MHz |
| Xilinx | Virtex-5 SXT | XC5VSX240T-3 | 0.3 % | 2 | 0 | 238.124 MHz |
| Xilinx | Virtex-5 SXT | XC5VSX35T-1 | 2.3 % | 2 | 0 | 181.521 MHz |
| Xilinx | Virtex-5 SXT | XC5VSX35T-2 | 2.3 % | 2 | 0 | 211.048 MHz |
| Xilinx | Virtex-5 SXT | XC5VSX35T-3 | 2.3 % | 2 | 0 | 238.124 MHz |
| Xilinx | Virtex-5 SXT | XC5VSX50T-1 | 1.5 % | 2 | 0 | 181.521 MHz |
| Xilinx | Virtex-5 SXT | XC5VSX50T-2 | 1.5 % | 2 | 0 | 211.048 MHz |
| Xilinx | Virtex-5 SXT | XC5VSX50T-3 | 1.5 % | 2 | 0 | 238.124 MHz |
| Xilinx | Virtex-5 SXT | XC5VSX95T-1 | 0.8 % | 2 | 0 | 181.521 MHz |
| Xilinx | Virtex-5 SXT | XC5VSX95T-2 | 0.8 % | 2 | 0 | 211.048 MHz |
| Xilinx | Virtex-5 SXT | XC5VSX95T-3 | 0.8 % | 2 | 0 | 238.124 MHz |
| Xilinx | Virtex-5 TXT | XC5VTX150T-1 | 0.5 % | 2 | 0 | 181.521 MHz |
| Xilinx | Virtex-5 TXT | XC5VTX150T-2 | 0.5 % | 2 | 0 | 211.048 MHz |
| Xilinx | Virtex-5 TXT | XC5VTX150T-3 | 0.5 % | 2 | 0 | 238.124 MHz |
| Xilinx | Virtex-5 TXT | XC5VTX240T-1 | 0.3 % | 2 | 0 | 181.521 MHz |
| Xilinx | Virtex-5 TXT | XC5VTX240T-2 | 0.3 % | 2 | 0 | 211.048 MHz |
| Xilinx | Virtex-5 TXT | XC5VTX240T-3 | 0.3 % | 2 | 0 | 238.124 MHz |
| Xilinx | Virtex-E | XCV1000E-6 | 19.2 % | 0 | 0 | 33.755 MHz |
| Xilinx | Virtex-E | XCV1000E-7 | 19.3 % | 0 | 0 | 40.890 MHz |
| Xilinx | Virtex-E | XCV1000E-8 | 19.3 % | 0 | 0 | 46.292 MHz |
| Xilinx | Virtex-E | XCV1600E-6 | 15.2 % | 0 | 0 | 33.755 MHz |
| Xilinx | Virtex-E | XCV1600E-7 | 15.2 % | 0 | 0 | 40.890 MHz |
| Xilinx | Virtex-E | XCV1600E-8 | 15.2 % | 0 | 0 | 46.292 MHz |
| Xilinx | Virtex-E | XCV2000E-6 | 12.3 % | 0 | 0 | 33.755 MHz |
| Xilinx | Virtex-E | XCV2000E-7 | 12.3 % | 0 | 0 | 40.890 MHz |
| Xilinx | Virtex-E | XCV2000E-8 | 12.3 % | 0 | 0 | 46.292 MHz |
| Xilinx | Virtex-E | XCV2600E-6 | 9.3 % | 0 | 0 | 33.755 MHz |
| Xilinx | Virtex-E | XCV2600E-7 | 9.3 % | 0 | 0 | 40.890 MHz |
| Xilinx | Virtex-E | XCV2600E-8 | 9.3 % | 0 | 0 | 46.292 MHz |
| Xilinx | Virtex-E | XCV300E-6 | 76.8 % | 0 | 0 | 33.755 MHz |
| Xilinx | Virtex-E | XCV300E-7 | 77.1 % | 0 | 0 | 40.890 MHz |
| Xilinx | Virtex-E | XCV300E-8 | 77.0 % | 0 | 0 | 46.292 MHz |
| Xilinx | Virtex-E | XCV3200E-6 | 7.3 % | 0 | 0 | 33.755 MHz |
| Xilinx | Virtex-E | XCV3200E-7 | 7.3 % | 0 | 0 | 40.890 MHz |
| Xilinx | Virtex-E | XCV3200E-8 | 7.3 % | 0 | 0 | 46.292 MHz |
| Xilinx | Virtex-E | XCV400E-6 | 49.2 % | 0 | 0 | 33.755 MHz |
| Xilinx | Virtex-E | XCV400E-7 | 49.4 % | 0 | 0 | 40.890 MHz |
| Xilinx | Virtex-E | XCV400E-8 | 49.3 % | 0 | 0 | 46.292 MHz |
| Xilinx | Virtex-E | XCV405E-6 | 49.2 % | 0 | 0 | 33.755 MHz |
| Xilinx | Virtex-E | XCV405E-7 | 49.4 % | 0 | 0 | 40.890 MHz |
| Xilinx | Virtex-E | XCV405E-8 | 49.3 % | 0 | 0 | 46.292 MHz |
| Xilinx | Virtex-E | XCV600E-6 | 34.1 % | 0 | 0 | 33.755 MHz |
| Xilinx | Virtex-E | XCV600E-7 | 34.3 % | 0 | 0 | 40.890 MHz |
| Xilinx | Virtex-E | XCV600E-8 | 34.2 % | 0 | 0 | 46.292 MHz |
| Xilinx | Virtex-E | XCV812E-6 | 25.1 % | 0 | 0 | 33.755 MHz |
| Xilinx | Virtex-E | XCV812E-7 | 25.2 % | 0 | 0 | 40.890 MHz |
| Xilinx | Virtex-E | XCV812E-8 | 25.1 % | 0 | 0 | 46.292 MHz |
| Xilinx | Virtex-II Pro X | XC2VPX20-5 | 3.0 % | 4 | 0 | 131.928 MHz |
| Xilinx | Virtex-II Pro X | XC2VPX20-6 | 2.9 % | 4 | 0 | 148.550 MHz |
| Xilinx | Virtex-II Pro X | XC2VPX20-7 | 2.9 % | 4 | 0 | 170.699 MHz |
| Xilinx | Virtex-II Pro X | XC2VPX70-5 | 0.9 % | 4 | 0 | 131.928 MHz |
| Xilinx | Virtex-II Pro X | XC2VPX70-6 | 0.9 % | 4 | 0 | 148.550 MHz |
| Xilinx | Virtex-II Pro X | XC2VPX70-7 | 0.8 % | 4 | 0 | 170.699 MHz |
| Xilinx | Virtex-II Pro | XC2VP100-5 | 0.7 % | 4 | 0 | 131.928 MHz |
| Xilinx | Virtex-II Pro | XC2VP100-6 | 0.6 % | 4 | 0 | 148.550 MHz |
| Xilinx | Virtex-II Pro | XC2VP100-7 | 0.6 % | 4 | 0 | 170.699 MHz |
| Xilinx | Virtex-II Pro | XC2VP20-5 | 3.1 % | 4 | 0 | 131.928 MHz |
| Xilinx | Virtex-II Pro | XC2VP20-6 | 3.1 % | 4 | 0 | 148.550 MHz |
| Xilinx | Virtex-II Pro | XC2VP20-7 | 3.0 % | 4 | 0 | 170.699 MHz |
| Xilinx | Virtex-II Pro | XC2VP30-5 | 2.1 % | 4 | 0 | 131.928 MHz |
| Xilinx | Virtex-II Pro | XC2VP30-6 | 2.1 % | 4 | 0 | 148.550 MHz |
| Xilinx | Virtex-II Pro | XC2VP30-7 | 2.1 % | 4 | 0 | 170.699 MHz |
| Xilinx | Virtex-II Pro | XC2VP40-5 | 1.5 % | 4 | 0 | 131.928 MHz |
| Xilinx | Virtex-II Pro | XC2VP40-6 | 1.5 % | 4 | 0 | 148.550 MHz |
| Xilinx | Virtex-II Pro | XC2VP40-7 | 1.4 % | 4 | 0 | 170.699 MHz |
| Xilinx | Virtex-II Pro | XC2VP50-5 | 1.2 % | 4 | 0 | 131.928 MHz |
| Xilinx | Virtex-II Pro | XC2VP50-6 | 1.2 % | 4 | 0 | 148.550 MHz |
| Xilinx | Virtex-II Pro | XC2VP50-7 | 1.2 % | 4 | 0 | 170.699 MHz |
| Xilinx | Virtex-II Pro | XC2VP70-5 | 0.9 % | 4 | 0 | 131.928 MHz |
| Xilinx | Virtex-II Pro | XC2VP70-6 | 0.9 % | 4 | 0 | 148.550 MHz |
| Xilinx | Virtex-II Pro | XC2VP70-7 | 0.8 % | 4 | 0 | 170.699 MHz |
| Xilinx | Virtex-II | XC2V1000-4 | 5.7 % | 4 | 0 | 105.516 MHz |
| Xilinx | Virtex-II | XC2V1000-5 | 5.6 % | 4 | 0 | 121.286 MHz |
| Xilinx | Virtex-II | XC2V1000-6 | 5.5 % | 4 | 0 | 141.183 MHz |
| Xilinx | Virtex-II | XC2V1500-4 | 3.8 % | 4 | 0 | 105.516 MHz |
| Xilinx | Virtex-II | XC2V1500-5 | 3.8 % | 4 | 0 | 121.286 MHz |
| Xilinx | Virtex-II | XC2V1500-6 | 3.7 % | 4 | 0 | 141.183 MHz |
| Xilinx | Virtex-II | XC2V2000-4 | 2.7 % | 4 | 0 | 105.516 MHz |
| Xilinx | Virtex-II | XC2V2000-5 | 2.7 % | 4 | 0 | 121.286 MHz |
| Xilinx | Virtex-II | XC2V2000-6 | 2.6 % | 4 | 0 | 141.183 MHz |
| Xilinx | Virtex-II | XC2V250-4 | 18.9 % | 4 | 0 | 105.516 MHz |
| Xilinx | Virtex-II | XC2V250-5 | 18.8 % | 4 | 0 | 121.286 MHz |
| Xilinx | Virtex-II | XC2V250-6 | 18.4 % | 4 | 0 | 141.183 MHz |
| Xilinx | Virtex-II | XC2V3000-4 | 2.0 % | 4 | 0 | 105.516 MHz |
| Xilinx | Virtex-II | XC2V3000-5 | 2.0 % | 4 | 0 | 121.286 MHz |
| Xilinx | Virtex-II | XC2V3000-6 | 2.0 % | 4 | 0 | 141.183 MHz |
| Xilinx | Virtex-II | XC2V4000-4 | 1.3 % | 4 | 0 | 105.516 MHz |
| Xilinx | Virtex-II | XC2V4000-5 | 1.3 % | 4 | 0 | 121.286 MHz |
| Xilinx | Virtex-II | XC2V4000-6 | 1.2 % | 4 | 0 | 141.183 MHz |
| Xilinx | Virtex-II | XC2V500-4 | 9.4 % | 4 | 0 | 105.516 MHz |
| Xilinx | Virtex-II | XC2V500-5 | 9.4 % | 4 | 0 | 121.286 MHz |
| Xilinx | Virtex-II | XC2V500-6 | 9.2 % | 4 | 0 | 141.183 MHz |
| Xilinx | Virtex-II | XC2V6000-4 | 0.9 % | 4 | 0 | 105.516 MHz |
| Xilinx | Virtex-II | XC2V6000-5 | 0.9 % | 4 | 0 | 121.286 MHz |
| Xilinx | Virtex-II | XC2V6000-6 | 0.8 % | 4 | 0 | 141.183 MHz |
| Xilinx | Virtex-II | XC2V8000-4 | 0.6 % | 4 | 0 | 105.516 MHz |
| Xilinx | Virtex-II | XC2V8000-5 | 0.6 % | 4 | 0 | 121.286 MHz |
| Xilinx | Virtex-II | XC2V8000-6 | 0.6 % | 4 | 0 | 141.183 MHz |
| Xilinx | Virtex-II | XC2V80-4 | 56.6 % | 4 | 0 | 105.516 MHz |
| Xilinx | Virtex-II | XC2V80-5 | 56.4 % | 4 | 0 | 121.286 MHz |
| Xilinx | Virtex-II | XC2V80-6 | 55.1 % | 4 | 0 | 141.183 MHz |
| Altera | Arria GX | EP1AGX20C2-C6 | 2.7 % | 4.1 % | 0 | 145.390 MHz |
| Altera | Arria GX | EP1AGX20C-C6 | 2.7 % | 4.1 % | 0 | 145.390 MHz |
| Altera | Arria GX | EP1AGX35C-C6 | 1.7 % | 3.7 % | 0 | 145.390 MHz |
| Altera | Arria GX | EP1AGX35D-C6 | 1.7 % | 3.7 % | 0 | 145.390 MHz |
| Altera | Arria GX | EP1AGX50C-C6 | 1.2 % | 2.0 % | 0 | 145.390 MHz |
| Altera | Arria GX | EP1AGX50D-C6 | 1.2 % | 2.0 % | 0 | 145.390 MHz |
| Altera | Arria GX | EP1AGX60C-C6 | 1.0 % | 2.0 % | 0 | 145.390 MHz |
| Altera | Arria GX | EP1AGX60D-C6 | 1.0 % | 2.0 % | 0 | 145.390 MHz |
| Altera | Arria GX | EP1AGX60E-C6 | 1.0 % | 2.0 % | 0 | 145.390 MHz |
| Altera | Arria GX | EP1AGX90E-C6 | 0.6 % | 1.1 % | 0 | 145.390 MHz |
| Altera | Cyclone II | EP2C15-C6 | 4.0 % | 20.8 % | 0 | 115.050 MHz |
| Altera | Cyclone II | EP2C15-C7 | 4.0 % | 20.8 % | 0 | 98.210 MHz |
| Altera | Cyclone II | EP2C15-C8 | 4.0 % | 20.8 % | 0 | 85.400 MHz |
| Altera | Cyclone II | EP2C20-C6 | 3.1 % | 20.8 % | 0 | 115.050 MHz |
| Altera | Cyclone II | EP2C20-C7 | 3.1 % | 20.8 % | 0 | 98.210 MHz |
| Altera | Cyclone II | EP2C20-C8 | 3.1 % | 20.8 % | 0 | 85.400 MHz |
| Altera | Cyclone II | EP2C35-C6 | 1.7 % | 10.3 % | 0 | 115.050 MHz |
| Altera | Cyclone II | EP2C35-C7 | 1.7 % | 10.3 % | 0 | 98.210 MHz |
| Altera | Cyclone II | EP2C35-C8 | 1.7 % | 10.3 % | 0 | 85.400 MHz |
| Altera | Cyclone II | EP2C50-C6 | 1.1 % | 8.4 % | 0 | 115.050 MHz |
| Altera | Cyclone II | EP2C50-C7 | 1.1 % | 8.4 % | 0 | 98.210 MHz |
| Altera | Cyclone II | EP2C50-C8 | 1.1 % | 8.4 % | 0 | 85.400 MHz |
| Altera | Cyclone II | EP2C5-C6 | 12.4 % | 41.7 % | 0 | 115.050 MHz |
| Altera | Cyclone II | EP2C5-C7 | 12.4 % | 41.7 % | 0 | 98.210 MHz |
| Altera | Cyclone II | EP2C5-C8 | 12.4 % | 41.7 % | 0 | 85.400 MHz |
| Altera | Cyclone II | EP2C70-C6 | 0.8 % | 4.3 % | 0 | 115.050 MHz |
| Altera | Cyclone II | EP2C70-C7 | 0.8 % | 4.3 % | 0 | 98.210 MHz |
| Altera | Cyclone II | EP2C70-C8 | 0.8 % | 4.3 % | 0 | 85.400 MHz |
| Altera | Cyclone II | EP2C8-C6 | 6.9 % | 30.1 % | 0 | 115.050 MHz |
| Altera | Cyclone II | EP2C8-C7 | 6.9 % | 30.1 % | 0 | 98.210 MHz |
| Altera | Cyclone II | EP2C8-C8 | 6.9 % | 30.1 % | 0 | 85.400 MHz |
| Altera | Cyclone III | EP3C10-C6 | 5.6 % | 11.8 % | 0 | 127.620 MHz |
| Altera | Cyclone III | EP3C10-C7 | 5.6 % | 11.8 % | 0 | 105.780 MHz |
| Altera | Cyclone III | EP3C10-C8 | 5.6 % | 11.8 % | 0 | 97.340 MHz |
| Altera | Cyclone III | EP3C120-C6 | 0.5 % | 1.3 % | 0 | 127.620 MHz |
| Altera | Cyclone III | EP3C120-C7 | 0.5 % | 1.3 % | 0 | 105.780 MHz |
| Altera | Cyclone III | EP3C120-C8 | 0.5 % | 1.3 % | 0 | 97.340 MHz |
| Altera | Cyclone III | EP3C16-C6 | 3.7 % | 9.7 % | 0 | 127.620 MHz |
| Altera | Cyclone III | EP3C16-C7 | 3.7 % | 9.7 % | 0 | 105.780 MHz |
| Altera | Cyclone III | EP3C16-C8 | 3.7 % | 9.7 % | 0 | 97.340 MHz |
| Altera | Cyclone III | EP3C25-C6 | 2.3 % | 8.2 % | 0 | 127.620 MHz |
| Altera | Cyclone III | EP3C25-C7 | 2.3 % | 8.2 % | 0 | 105.780 MHz |
| Altera | Cyclone III | EP3C25-C8 | 2.3 % | 8.2 % | 0 | 97.340 MHz |
| Altera | Cyclone III | EP3C40-C6 | 1.4 % | 4.3 % | 0 | 127.620 MHz |
| Altera | Cyclone III | EP3C40-C7 | 1.4 % | 4.3 % | 0 | 105.780 MHz |
| Altera | Cyclone III | EP3C40-C8 | 1.4 % | 4.3 % | 0 | 97.340 MHz |
| Altera | Cyclone III | EP3C55-C6 | 1.0 % | 2.1 % | 0 | 127.620 MHz |
| Altera | Cyclone III | EP3C55-C7 | 1.0 % | 2.1 % | 0 | 105.780 MHz |
| Altera | Cyclone III | EP3C55-C8 | 1.0 % | 2.1 % | 0 | 97.340 MHz |
| Altera | Cyclone III | EP3C5-C6 | 11.2 % | 11.8 % | 0 | 127.620 MHz |
| Altera | Cyclone III | EP3C5-C7 | 11.2 % | 11.8 % | 0 | 105.780 MHz |
| Altera | Cyclone III | EP3C5-C8 | 11.2 % | 11.8 % | 0 | 97.340 MHz |
| Altera | Cyclone III | EP3C80-C6 | 0.7 % | 1.8 % | 0 | 127.620 MHz |
| Altera | Cyclone III | EP3C80-C7 | 0.7 % | 1.8 % | 0 | 105.780 MHz |
| Altera | Cyclone III | EP3C80-C8 | 0.7 % | 1.8 % | 0 | 97.340 MHz |
| Altera | Cyclone | EP1C12-C6 | 4.8 % | 20.8 % | 0 | 96.870 MHz |
| Altera | Cyclone | EP1C12-C7 | 4.8 % | 20.8 % | 0 | 84.630 MHz |
| Altera | Cyclone | EP1C12-C8 | 4.8 % | 20.8 % | 0 | 75.330 MHz |
| Altera | Cyclone | EP1C20-C6 | 2.9 % | 16.9 % | 0 | 96.870 MHz |
| Altera | Cyclone | EP1C20-C7 | 2.9 % | 16.9 % | 0 | 84.630 MHz |
| Altera | Cyclone | EP1C20-C8 | 2.9 % | 16.9 % | 0 | 75.330 MHz |
| Altera | Cyclone | EP1C3-C6 | 19.7 % | 83.3 % | 0 | 96.870 MHz |
| Altera | Cyclone | EP1C3-C7 | 19.7 % | 83.3 % | 0 | 84.630 MHz |
| Altera | Cyclone | EP1C3-C8 | 19.7 % | 83.3 % | 0 | 75.330 MHz |
| Altera | Cyclone | EP1C4-C6 | 14.3 % | 63.7 % | 0 | 96.870 MHz |
| Altera | Cyclone | EP1C4-C7 | 14.3 % | 63.7 % | 0 | 84.630 MHz |
| Altera | Cyclone | EP1C4-C8 | 14.3 % | 63.7 % | 0 | 75.330 MHz |
| Altera | Cyclone | EP1C6-C6 | 9.6 % | 54.2 % | 0 | 96.870 MHz |
| Altera | Cyclone | EP1C6-C7 | 9.6 % | 54.2 % | 0 | 84.630 MHz |
| Altera | Cyclone | EP1C6-C8 | 9.6 % | 54.2 % | 0 | 75.330 MHz |
| Altera | Stratix II GX | EP2SGX130G-C3 | 0.4 % | 0.7 % | 0 | 204.330 MHz |
| Altera | Stratix II GX | EP2SGX130G-C4 | 0.4 % | 0.7 % | 0 | 196.850 MHz |
| Altera | Stratix II GX | EP2SGX130G-C5 | 0.4 % | 0.7 % | 0 | 161.790 MHz |
| Altera | Stratix II GX | EP2SGX30C-C3 | 1.7 % | 3.6 % | 0 | 204.330 MHz |
| Altera | Stratix II GX | EP2SGX30C-C4 | 1.7 % | 3.6 % | 0 | 196.850 MHz |
| Altera | Stratix II GX | EP2SGX30C-C5 | 1.7 % | 3.6 % | 0 | 161.790 MHz |
| Altera | Stratix II GX | EP2SGX30D-C3 | 1.7 % | 3.6 % | 0 | 204.330 MHz |
| Altera | Stratix II GX | EP2SGX30D-C4 | 1.7 % | 3.6 % | 0 | 196.850 MHz |
| Altera | Stratix II GX | EP2SGX30D-C5 | 1.7 % | 3.6 % | 0 | 161.790 MHz |
| Altera | Stratix II GX | EP2SGX60C-C3 | 1.0 % | 2.0 % | 0 | 204.330 MHz |
| Altera | Stratix II GX | EP2SGX60C-C4 | 1.0 % | 2.0 % | 0 | 196.850 MHz |
| Altera | Stratix II GX | EP2SGX60C-C5 | 1.0 % | 2.0 % | 0 | 161.790 MHz |
| Altera | Stratix II GX | EP2SGX60D-C3 | 1.0 % | 2.0 % | 0 | 204.330 MHz |
| Altera | Stratix II GX | EP2SGX60D-C4 | 1.0 % | 2.0 % | 0 | 196.850 MHz |
| Altera | Stratix II GX | EP2SGX60D-C5 | 1.0 % | 2.0 % | 0 | 161.790 MHz |
| Altera | Stratix II GX | EP2SGX60E-C3 | 1.0 % | 2.0 % | 0 | 204.330 MHz |
| Altera | Stratix II GX | EP2SGX60E-C4 | 1.0 % | 2.0 % | 0 | 196.850 MHz |
| Altera | Stratix II GX | EP2SGX60E-C5 | 1.0 % | 2.0 % | 0 | 161.790 MHz |
| Altera | Stratix II GX | EP2SGX90E-C3 | 0.6 % | 1.1 % | 0 | 204.330 MHz |
| Altera | Stratix II GX | EP2SGX90E-C4 | 0.6 % | 1.1 % | 0 | 196.850 MHz |
| Altera | Stratix II GX | EP2SGX90E-C5 | 0.6 % | 1.1 % | 0 | 161.790 MHz |
| Altera | Stratix II GX | EP2SGX90F-C3 | 0.6 % | 1.1 % | 0 | 204.330 MHz |
| Altera | Stratix II GX | EP2SGX90F-C4 | 0.6 % | 1.1 % | 0 | 196.850 MHz |
| Altera | Stratix II GX | EP2SGX90F-C5 | 0.6 % | 1.1 % | 0 | 161.790 MHz |
| Altera | Stratix II | EP2S130-C3 | 0.4 % | 0.7 % | 0 | 215.800 MHz |
| Altera | Stratix II | EP2S130-C4 | 0.4 % | 0.7 % | 0 | 183.020 MHz |
| Altera | Stratix II | EP2S130-C5 | 0.4 % | 0.7 % | 0 | 154.180 MHz |
| Altera | Stratix II | EP2S15-C3 | 3.7 % | 11.9 % | 0 | 215.800 MHz |
| Altera | Stratix II | EP2S15-C4 | 3.7 % | 11.9 % | 0 | 183.020 MHz |
| Altera | Stratix II | EP2S15-C5 | 3.7 % | 11.9 % | 0 | 154.180 MHz |
| Altera | Stratix II | EP2S180-C3 | 0.3 % | 0.5 % | 0 | 215.800 MHz |
| Altera | Stratix II | EP2S180-C4 | 0.3 % | 0.5 % | 0 | 183.020 MHz |
| Altera | Stratix II | EP2S180-C5 | 0.3 % | 0.5 % | 0 | 154.180 MHz |
| Altera | Stratix II | EP2S30-C3 | 1.7 % | 3.6 % | 0 | 215.800 MHz |
| Altera | Stratix II | EP2S30-C4 | 1.7 % | 3.6 % | 0 | 183.020 MHz |
| Altera | Stratix II | EP2S30-C5 | 1.7 % | 3.6 % | 0 | 154.180 MHz |
| Altera | Stratix II | EP2S60-C3 | 1.0 % | 2.0 % | 0 | 215.800 MHz |
| Altera | Stratix II | EP2S60-C4 | 1.0 % | 2.0 % | 0 | 183.020 MHz |
| Altera | Stratix II | EP2S60-C5 | 1.0 % | 2.0 % | 0 | 154.180 MHz |
| Altera | Stratix II | EP2S90-C3 | 0.6 % | 1.1 % | 0 | 215.800 MHz |
| Altera | Stratix II | EP2S90-C4 | 0.6 % | 1.1 % | 0 | 183.020 MHz |
| Altera | Stratix II | EP2S90-C5 | 0.6 % | 1.1 % | 0 | 154.180 MHz |
| Altera | Stratix III | EP3SL110-C2 | 0.5 % | 1.2 % | 0 | 266.170 MHz |
| Altera | Stratix III | EP3SL110-C3 | 0.5 % | 1.2 % | 0 | 231.270 MHz |
| Altera | Stratix III | EP3SL110-C4 | 0.5 % | 1.2 % | 0 | 200.440 MHz |
| Altera | Stratix III | EP3SL110-C4L | 0.5 % | 1.2 % | 0 | 138.290 MHz |
| Altera | Stratix III | EP3SL150-C2 | 0.4 % | 0.9 % | 0 | 266.170 MHz |
| Altera | Stratix III | EP3SL150-C3 | 0.4 % | 0.9 % | 0 | 231.270 MHz |
| Altera | Stratix III | EP3SL150-C4 | 0.4 % | 0.9 % | 0 | 200.440 MHz |
| Altera | Stratix III | EP3SL150-C4L | 0.4 % | 0.9 % | 0 | 138.290 MHz |
| Altera | Stratix III | EP3SL200-C2 | 0.3 % | 0.5 % | 0 | 266.170 MHz |
| Altera | Stratix III | EP3SL200-C3 | 0.3 % | 0.5 % | 0 | 231.270 MHz |
| Altera | Stratix III | EP3SL200-C4 | 0.3 % | 0.5 % | 0 | 200.440 MHz |
| Altera | Stratix III | EP3SL200-C4L | 0.3 % | 0.5 % | 0 | 138.290 MHz |
| Altera | Stratix III | EP3SL340-C2 | 0.2 % | 0.3 % | 0 | 266.170 MHz |
| Altera | Stratix III | EP3SL340-C3 | 0.2 % | 0.3 % | 0 | 231.270 MHz |
| Altera | Stratix III | EP3SL340-C4 | 0.2 % | 0.3 % | 0 | 200.440 MHz |
| Altera | Stratix III | EP3SL340-C4L | 0.2 % | 0.3 % | 0 | 138.290 MHz |
| Altera | Stratix III | EP3SL50-C2 | 1.2 % | 2.7 % | 0 | 266.170 MHz |
| Altera | Stratix III | EP3SL50-C3 | 1.2 % | 2.7 % | 0 | 231.270 MHz |
| Altera | Stratix III | EP3SL50-C4 | 1.2 % | 2.7 % | 0 | 200.440 MHz |
| Altera | Stratix III | EP3SL50-C4L | 1.2 % | 2.7 % | 0 | 138.290 MHz |
| Altera | Stratix III | EP3SL70-C2 | 0.9 % | 2.2 % | 0 | 266.170 MHz |
| Altera | Stratix III | EP3SL70-C3 | 0.9 % | 2.2 % | 0 | 231.270 MHz |
| Altera | Stratix III | EP3SL70-C4 | 0.9 % | 2.2 % | 0 | 200.440 MHz |
| Altera | Stratix III | EP3SL70-C4L | 0.9 % | 2.2 % | 0 | 138.290 MHz |
| Altera | Stratix | EP1S10-C5 | 5.4 % | 5.4 % | 0 | 108.200 MHz |
| Altera | Stratix | EP1S10-C6 | 5.4 % | 5.4 % | 0 | 96.740 MHz |
| Altera | Stratix | EP1S10-C7 | 5.4 % | 5.4 % | 0 | 83.840 MHz |
| Altera | Stratix | EP1S20-C5 | 3.1 % | 3.0 % | 0 | 108.200 MHz |
| Altera | Stratix | EP1S20-C6 | 3.1 % | 3.0 % | 0 | 96.740 MHz |
| Altera | Stratix | EP1S20-C7 | 3.1 % | 3.0 % | 0 | 83.840 MHz |
| Altera | Stratix | EP1S25-C5 | 2.2 % | 2.6 % | 0 | 108.200 MHz |
| Altera | Stratix | EP1S25-C6 | 2.2 % | 2.6 % | 0 | 96.740 MHz |
| Altera | Stratix | EP1S25-C7 | 2.2 % | 2.6 % | 0 | 83.840 MHz |
| Altera | Stratix | EP1S30-C5 | 1.8 % | 1.5 % | 0 | 108.200 MHz |
| Altera | Stratix | EP1S30-C6 | 1.8 % | 1.5 % | 0 | 96.740 MHz |
| Altera | Stratix | EP1S30-C7 | 1.8 % | 1.5 % | 0 | 83.840 MHz |
| Altera | Stratix | EP1S40-C5 | 1.4 % | 1.5 % | 0 | 108.200 MHz |
| Altera | Stratix | EP1S40-C6 | 1.4 % | 1.5 % | 0 | 96.740 MHz |
| Altera | Stratix | EP1S40-C7 | 1.4 % | 1.5 % | 0 | 83.840 MHz |
| Altera | Stratix | EP1S60-C5 | 1.0 % | 1.0 % | 0 | 108.200 MHz |
| Altera | Stratix | EP1S60-C6 | 1.0 % | 1.0 % | 0 | 96.740 MHz |
| Altera | Stratix | EP1S60-C7 | 1.0 % | 1.0 % | 0 | 83.840 MHz |
| Altera | Stratix | EP1S80-C5 | 0.7 % | 0.7 % | 0 | 108.200 MHz |
| Altera | Stratix | EP1S80-C6 | 0.7 % | 0.7 % | 0 | 96.740 MHz |
| Altera | Stratix | EP1S80-C7 | 0.7 % | 0.7 % | 0 | 83.840 MHz |